New product
Q'nique Elite Series
Larger work area for ultimate freedom.
Easily quilt larger projects with more throat space! By eliminating the need to reroll, fold, or reposition the quilt, a larger throat area allows plenty of room for the quilt to roll up as you go without getting bunched. This also eliminates the need for pin basting, enables quilters to use thicker batting, create larger patterns, and accomplish
breathtaking projects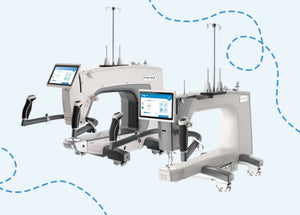 CONTININENTAL M8 PROFESSIONAL
Luxury details. Premium design. Now with A.S.R.
The Continental M8 Professional is the third model in the Janome range to feature A.S.R. Accurate Stitch Regulator. There are 4 A.S.R. feet supplied with the machine – Open-toe, Closed-toe, Clear-view and Ruler work. Use the A.S.R. Ruler Work foot with Janome's Ruler Work Kit (6 templates) to give a professional finish to your quilted projects. The work-area is the biggest on any Janome sewing machine at 13.5″ | 343mm.

Learn more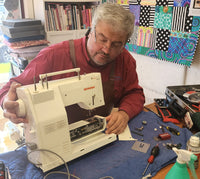 HM Sewing Machine Services
Here at HMSMS we have been servicing and repairing sewing machines, overlocks, embroidery machines and long arm quilting since 1984 and we can guarantee you absolute top quality service. We carry out great service to all brands.

Repair all brands of sewing machines, overlockers and Longarm Quilting Machines.
Love the Jack industrial plain sewer that I bought from them. I have converted it to a standing machine with some parts donated by Know-How Sewing Esssentials. Great service. Very happy.



Annette Rolfe
Excellent service value for money always contactable. Follow-up service and staff very knowledgeable and helpful.


Maryann Hamilton
Very helpful , pleasant people, I was extremely happy with the service, the price and communication. They have a lot of knowledge.

Jennifer Cowan
Love the Jack industrial plain sewer that I bought from them. I have converted it to a standing machine with some parts donated by Know-How Sewing Esssentials. Great service. Very happy.



Annette Rolfe

The most wonderful caring people. Great company, brilliant servicing.

Donna Harvey

I got recommended to these guys buy another company this is my 4th company I had requested a quote from now these guys weren't cheaper than other but the are more knowledgeable and they know what they are talking about. I had my research done for the last 3 months and I wanted to deal with a company that will tell me the issues with the products not the bright side of only to sell it. Guess what Hans knows what he is talking about and I believe the amount of knowledge they have with Jack machine is artistic I decided to purchase my first machine with them and will be 2 more to go in the near future . It was great doing business with you and thank you Hans 🇧🇪🇧🇪 ☝🏻☝🏻

Audi Haroon