A Tale of Two Quilters

It's time you had a tool that can meet you where you're at in your quilting journey. One that can truly set your creativity free to reach your dreams. The Quilter's Evolution frame does all that and more. If you've ever had these thoughts while quilting, we strongly recommend you take a closer look.I wish I could have the freedom to easily make any size quilt.I wish I had a tool that gave me more control over larger quilts.The Quilter's Evolution Frame series has options to make it a perfect match for you no matter what kind of quilter you are.

No More Limits

For quilters, there's no comparison to the feeling of pulling your quilts off the table, securing them to a frame, and smiling as your machine glides effortlessly above it.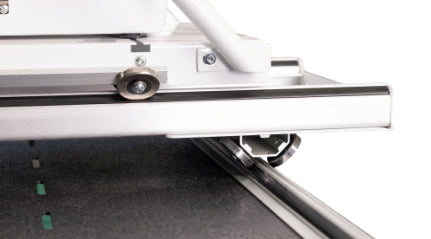 Stronger Hold

Secure rail design to create an even better hold on your fabric

Firmer Structure

Sturdy, rigid design so your frame can work as long as you need

Optional accessory rail that can serve as either a batting rail or idler rail to give you even more control of your fabric

When you're ready for the next stage of quilting, nothing is going to get in your way. As an experienced quilter, you can quilt in comfort with the best tools that match your space.

Whether you want the comfort of rolling a smaller project, or need the power of zoning a king-size quilt, the Evolution Hoop-Frame swiftly adjusts to meet your needs.
Comfortable Size 
Size of a medium desk, so your space isn't overrun
Quilter's Evolution 

Elite Frame


Quilter's Evolution 

hoop Frame


Throat 

21" 




 Width 

48" 




 Length 

155"

Throat 

21" 




 Width 

48" 




 Length 

66"
Powered by AZEXO Shopify page builder